Rector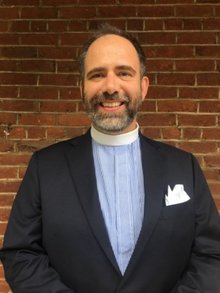 St. Mark's Rector, Willis Logan comes from Christ Church, Charlottesville although he has ties to the Roanoke Valley and lived most of his life in Salem. He is married to Ashley, who he met when he was a junior at Salem High School. Ashley is a UVa trained General Pediatrician and has joined Physicians to Children in Roanoke. Willis and Ashley have three children. They love to do all things outside with an emphasis on any water sport.
After graduating from Middlebury College in Vermont, Willis owned and operated The Virginia Company -- a specialized retailer focused completely on Virginia Products -- hams, peanuts and wine. After finishing an executive degree at Georgetown, he divested the businesses and pursued a call to the Priesthood. Willis was ordained in June of 2014 after completing his degree at Duke Divinity School. His ministry is focused on pastoral care, integrating grace into the parish, and teaching and preaching through the lens of Law and Gospel.
Vestry Members
Not pictured, Charlie Echols, Trudy Trammell.
Danielle Alexander, Senior Warden
Patti Suite, Associate Warden
Lisa Uotinen
Bruce Wilsie
Brian Wood