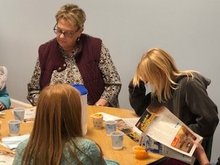 Regretfully, Homework Helps is not meeting this fall, 2022, at St. Mark's.
Please check back for any updates or changes!
The Homework Helps program meets on Mondays and Wednesdays during the school year in the afternoon after school hours (2:30-4:30).
Homework Helps is an after school homework assistance program that began in 2013 under the leadership of Orchard Hills Achievement Center and in partnership with Daleville area churches to provide a personal, consistent investment in the educational, physical, social, and spiritual lives of children who have limited resources. The initial focus of the ministry was Greenfield Elementary School.
We have been in discussions with the Orchard Hills Achievement Center Ministry and our neighboring churches. The fruit of these discussions has resulted in a two day a week Homework Helps Ministry that will be supported by St. Mark's. In September of 2018, the St. Mark's Youth Center became the host site for a Homework Helps program. This will serve the under-resourced children of Breckenridge Elementary School by providing free, after school homework assistance. We are part of a consortium of Fincastle Churches that will support and care for these children.